BPO Solutions
Tax

Agencies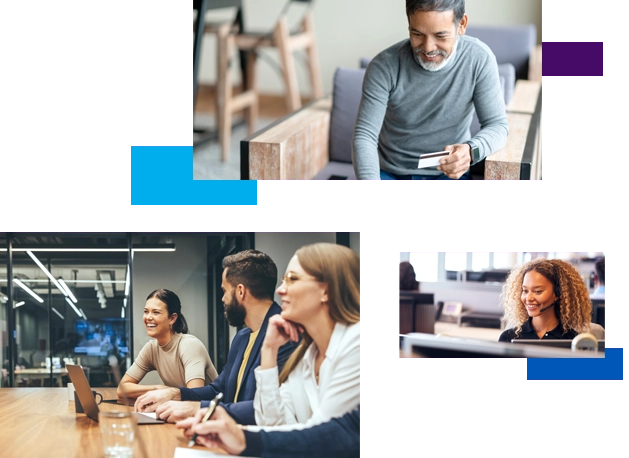 Meeting Today's Complex Program Challenges
At any given time, headwinds may affect your tax agency's ability to meet its commitments to customer service and to funding programs and community needs. These challenges may include:
Volume fluctuations

Staff turnover and labor shortages

Policy changes

Technology issues

Cybersecurity risks

Inflation and other economic factors
We Can Help
Our enterprise provides federal, state, and local tax agencies with efficient, professional, empathetic, and compliant customer service for millions of constituents. Here's some of what makes us different (and better)...
Experience: Our teams have decades of experience supporting a full spectrum of tax types, including business tax; personal income tax; sales and use tax; and property and real estate tax.

Technology: NaviConnects®, our omnichannel CX ecosystem, enables your constituents to engage, resolve taxation issues, and make payments on their terms … all while giving you the insight, controls, and cybersecurity peace of mind you expect.

Agile staffing: As part of a 4,000+ person organization, we can assign you a trained, dedicated team and scale it up and down over time based on your changing needs.

Customization: We don't believe in a "one-size-fits-all" approach. Instead, we'll consult closely with you to build a custom solution that's right for your agency and those you serve.

Rapid implementation and deployment: We can have your customer service solution up and running quickly, so you don't have to wait to deliver enhancements to your staff and constituents.

Compliance and training: We bring FedRAMP-certified tools and partnerships and comply with applicable laws, acts, and standards including IRS Publication 1075, HIPAA, and PCI. We invest heavily in our people too: each year since 2014, Training magazine has recognized our enterprise's training program as among the world's best.

Responsibility: We forge partnerships and programs that support economic participation and opportunity for local and specially certified firms. Through our enterprise's Elevate corporate social responsibility platform, we deliver on our commitment to making the world a better place.
Need

a Collection Solution?
We Can Do That Too
Our affiliate, Pioneer Credit Recovery, provides tax-collection solutions and expertise, including end-to-end support for tax amnesty programs.