January 2016
School Ombudsman corner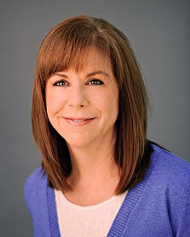 Robyn Hughes
School Ombudsman
Robyn directs all activity associated with the strategic support of our loan servicing relationships with schools across the U.S.
Happy New Year! I'm excited to begin 2016 with a commitment to work for you to resolve any Navient student loan servicing issues you may have. I'm proud of what my team and I have accomplished since I started in November, including:
Resolving a significant borrower service issue for a school by working internally with several Navient groups, including collections

Researching an enrollment issue between NSLDS and Navient. There are several components to this one, with some secondary elements I've yet to complete. I think I have already identified a possible solution and will let you know!

Regarding our School Servicing Portal (SSP) and file formatting, I led efforts for our February move to the standard PESC format for the Student Loan Detail Report. I encourage you to check out the details that we emailed to you back on January 15.
Throughout the upcoming year, I will be attending several regional conferences and hope to meet you in person.
Again, all the best for a terrific 2016!
Latest additions to Path to SuccessSM
In the first quarter of 2016, Navient will add two new modules to our online financial literacy series, Path to Success.
Understanding How Interest Works

includes a review of student loans, what interest is and how it affects loan debt, how repayment works, and tips for staying on top of student loan debt.

The Career Playbook

will launch later, with strategies to plan a meaningful long-term career, including managing expectations around job satisfaction, lifestyle, and compensation.
Both modules employ individual, real-life scenarios and situations, that we think borrowers will find relatable.
NAVIENT NEWS
Happy New Year!
We hope in the past year Navient News quarterly updates have helped support you and your federal loan borrowers. Be sure to visit Navient.com/schools for detailed information, documentation, and resources to help your students become and stay financially successful.
We are proud to help students stay on track with their loan payments and join our more than 12 million borrowers to celebrate the new year and reflect on their personal finance successes during the last 12 months.
Overall, federal loan borrowers with loans serviced by Navient are 38 percent less likely to default than others.

9 times out of 10, when we were able to speak with a past-due federal loan borrower, we were able to help him or her avoid default.

During 2015, more than 400,000 Navient borrowers repaid their education loans in full.
---
Borrower webcasts held December 9, 2015
10 things to do before you make your 1st student loan payment
On December 9, Navient hosted three borrower webcasts covering 10 things to do before you make your 1st student loan payment. The webcasts gave participants detailed repayment information with unique success stories and quotes collected from Navient borrowers through social media.
A total of 1,801 borrowers attended, and we were able to answer hundreds of questions. The largest percentage of questions asked were about the basics of repayment and we had a smaller number of questions about loan consolidation. General questions concerned individual financial struggles, unemployment situations, and requests for information on postponing repayment. More information, downloads, and a replay of the webcast are on Navient.com/Getting-Started.
---
Website redesign for borrowers
Navient recently completed the first phase in a redesign of our online borrower account management website, for smartphone, tablet, and desktop users. The new site, visible once a borrower has logged into Navient.com, was developed with one guiding principle: a thoughtful, borrower-centric approach. We hope our borrowers entering the site will find:
Responsive design elements

Improved navigation, utilizing accessible design principles

A modern uncluttered look and feel

Helpful, clear content.

Primary navigation, giving quick access to pages such as Account Summary, Make a Payment, AutoPay, Loan Details, Account History, and Tax Statements.

Updated Help Center is organized by topic

Robust search function

Messages tile in the left menu, dedicated space for targeted communications specific to the borrower

Profile page that acts as the hub for changes to all personal information: User ID, password, addresses, phone numbers, email permissions, and bank information.

Help Center with answers to common questions

Email Us option, giving borrowers a clean, streamlined way to submit emails that are routed to the right Navient team for timely responses
---
Navient ED Servicing team at FSA Training Conference
The Navient ED Servicing team attended the annual FSA Training Conference in Las Vegas, December 1–4. With our school partners, we participated in federal update sessions, daily open forums, and breakout sessions. From what we learned, we gained even greater insights into the level and type of support needed most at schools. We were very pleased to see and provide guidance to many of our aid office colleagues in the conference's Resource Center.
---
Servicing contract information
School Ombudsman

Providing schools with information and solutions to support your delinquency management initiatives and drive your successful portfolio analysis.

Phone: 703-984-6665
SchoolOmbudsman@navient.com

CollegeServ®

Providing assistance with borrower-related issues/repayment counseling, enrollment updates, and guidance with our online reports, Monday – Thursday 8 am – 9 pm ET and Friday 8 am – 9 pm ET.

Phone: 888-272-4665
collegeserv@navient.com

 

Electronic Services

Providing technical support, Monday – Friday 8 am – 5 pm ET, for monitoring of your electronic file exchange, report delivery, and our school servicing portal navigation.

Phone: 800-348-4606
ESNAVI@navient.com
Visit Navient.com to download our updated Servicing Contact Information with additional details on contact resources.