Taxes, Interest, & Credit
Know How

Your Loans are Affected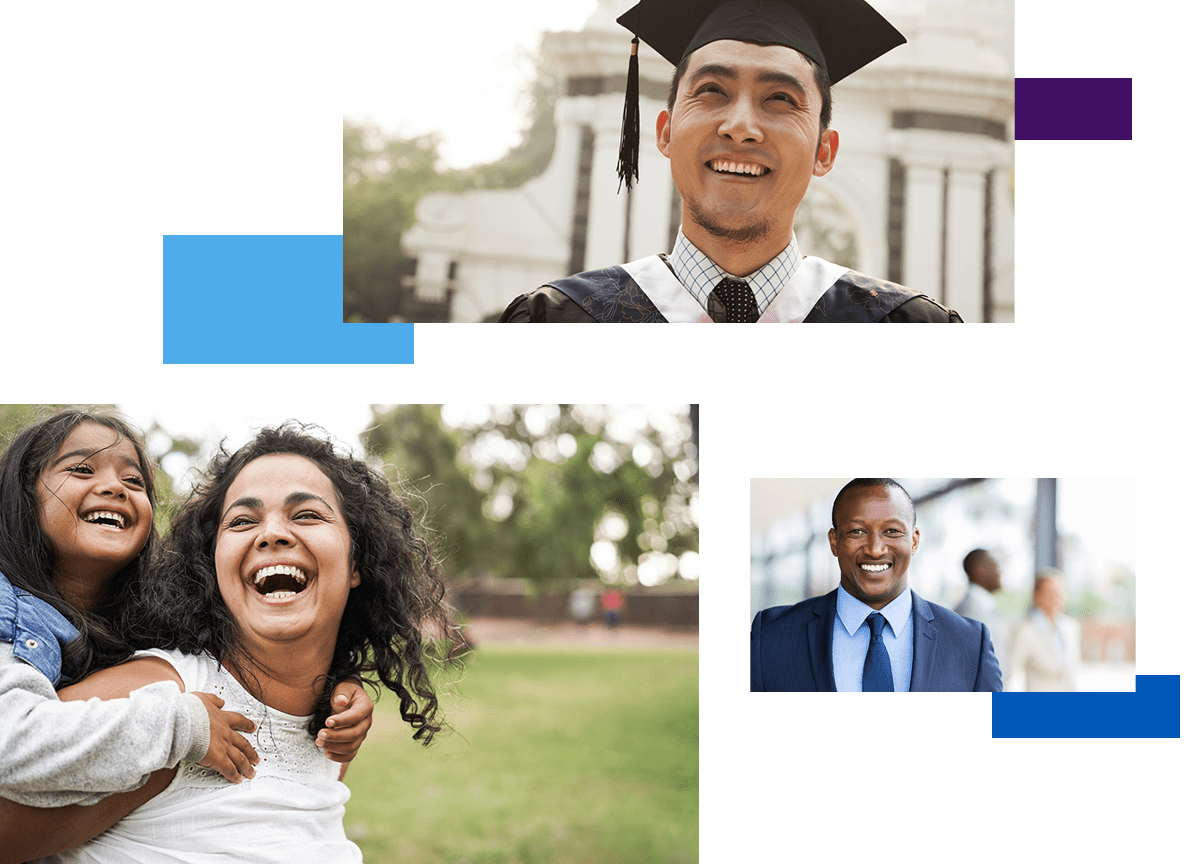 Taxes and Interest
You're required to repay your student loans with interest. Interest is calculated as a percentage of the amount you borrowed.
You may be able to deduct interest paid on your eligible student loans on your federal tax return, which could reduce your taxable income.
About Tax Form 1098-E
The 1098-E tax form reports the amount of interest you paid on student loans in a calendar year.
To access your Form 1098-E, log in to your account and select Tax Statements in the left menu.
Or call 844-NAVI-TAX (844-628-4829) and get your eligible interest amount through our automated voice system.
Navient's Tax ID Number: 46-4054283
Tip! Remember: You don't need a physical copy of the form to file your taxes.
Questions? If you have questions related to your tax statements or student loan interest, call us at 844-NAVI-TAX (844-628-4829).
Form 1098-E Tax Statement Schedule for Tax Year 2023
December 31, 2023: Interest payments received by this date are included in your 2023 Form 1098-E.
On or after January 10, 2024: Your Form 1098-E will be available online at Navient.com.
January 31, 2024: The latest we'll send your Form 1098-E if U.S. Mail is your selected delivery method.
April 15, 2024: Deadline for filing your federal income tax return.
About Student Loan Interest
It's important to understand how your student loan's interest rate is set. The short answer is it depends on the type of loan your own. Learn more about rates on the loans you own by logging into your account and going to the Loan Details pages.
SIMPLE DAILY INTEREST CALCULATION
The amount of interest that accrues on your loan is determined by a simple daily interest calculation, which you can estimate as follows:
Approximate Daily Interest = (Unpaid Principal balance x Interest Rate) ÷ Number of Days in the Year
If you have multiple student loans, you likely have multiple interest rates.
To make it easier, log in to your account and go to the Interest Estimator tool, which uses your current loan balances and interest rates to estimate interest accrual for you.
Just go to the Tools & Requests page and select Interest Estimator. Once you are in the tool, select the number of days — up to 31 days in the future — and then Calculate to see how much interest is accruing on each of your loans for a given time period.
CAPITALIZED INTEREST
Interest capitalization is when Unpaid Interest is added to the Unpaid Principal. This occurs at certain times during the life of the loan, typically at the end of the grace period, a deferment, or a forbearance. Depending on your loan program and promissory note, interest may also be capitalized periodically during certain periods when payments are postponed and in connection with certain repayment plans.
Capitalization will cause the principal balance to increase, and future interest will accrue on that larger balance.
To minimize the effects of the capitalized interest on the amount you'll pay overall, you can pay the interest before it is capitalized. For example, you can pay the interest while you're in school instead of waiting until after graduation.
You can log in to your account to see any capitalized interest amounts in your Account History.
Credit Reporting
In addition to helping our student loan customers achieve successful loan repayment, we are committed to the highest of industry standards when it comes to relaying important information to consumer reporting agencies.
We understand that the protection and factual portrayal of credit and your credit score is an integral part of your financial life.
Credit Basics
Your credit report is a record of your history as a borrower, maintained by a consumer reporting agency based on information reported by your existing and prior lenders. Other financial obligations such as liens, judgments, medical debts, and other debts may appear on a credit report as well.
When you apply for new credit, potential lenders may review your full credit report, but they often make decisions based on your credit score. The weight any particular lender gives to credit scores varies by lender and is entirely determined by the lenders themselves.
Your credit report is a record of your history as a borrower. It's maintained by a consumer reporting agency based on information reported by your existing and prior lenders. Other financial obligations such as liens, judgments, medical debts, and other debts may appear on a credit report as well.
While other consumer reporting agencies may produce reporting, Equifax, TransUnion, and Experian are the most recognizable names in the reporting industry.
When you apply for new credit, potential lenders may review your full credit report, but they often make decisions based on your credit score. Typically, scores range from 350 – 850. The weight any particular lender gives to credit scores varies by lender and is entirely determined by the lenders themselves.
Your financial habits are reflected in your credit score — an important number. Credit scores offer lenders a glimpse at your financial practices, with various factors such as your bill-paying habits, indebtedness, and how you've handled past financial hurdles captured in a single number.
Accessing your credit history is easy – and once per year it's free, too! Request your free credit report from Experian, Equifax, and TransUnion.
Go to AnnualCreditReport.com
TIP – Thoroughly review your credit report annually. It's one of the most efficient ways to identify suspicious activity such as uncovering accounts you didn't open or finding unknown sourced or credit inquiries. If you find suspicious activity on your credit reports, call your local police or sheriff's office to file a report of identity theft. Whenever identifying suspicious activity immediately contact any of the three major credit reporting agencies to activate an "initial fraud alert." This alert enables creditors to contact you before opening new accounts. As soon as the credit reporting agency confirms your fraud alert, the other two national agencies will automatically be notified and initiate fraud alerts as well.
Your credit score may be the key factor in many borrowing situations for financial institutions who attempt to measure your credit worthiness. It can be the difference between financing your dream car or, sadly, being told you don't qualify for a loan. Negative credit information may reflect on your credit report for up to seven years from when a delinquency began, and bankruptcy data may reflect for up to ten years.
Having difficulty making payments?
If you ever struggle to make your student loan payments, let us know. We have options that could better fit your situation, including plans based on your income. Remember, making payments in a timely manner is essential to maintaining good credit history.
The Fair Credit Reporting Act (FCRA) is a federal law that dictates how financial institutions – such as Navient – provide information to the consumer reporting agencies. It sets industry rules which encompass both the protection of the privacy of information, as well as, what and how information may be reported. Accuracy and integrity of information reported is one of our most important obligations under the law.
The FCRA requires lenders and servicers, such as Navient, who report information to the consumer reporting agencies to do so with accuracy. We are often asked to provide "courtesy retractions" by our customers, especially if negative reporting had adverse effects. However, please understand, given the requirements of this law, Navient is restricted from making removals of accurate reporting.
Credit scores typically range from 350 (poor) to 850 (excellent) depending on the consumer reporting agency and their practices – that's why your scores can differ from credit report to credit report. Additionally, you'll notice your score can change from time to time even if you haven't opened new accounts or incurred additional inquiries.
However, one thing is certain – there are universally accepted best practices you can adopt to understand in an effort to attain the best scores possible. Become credit-aware and understand the meaning of your score and practice good credit building habits.
When we contact consumer reporting agencies with updates to your file, please be patient and allow sufficient time for these changes to be processed. Unfortunately, there's rarely a standard timeline we can provide as to when a consumer reporting agency will act on a request. Once Navient has reported updated information, it's up to the consumer reporting agencies to update their system records.
You can always contact the consumer reporting agencies directly to check that your credit report has been updated.
Our commitment to you and credit reporting is simple...our goal is always to furnish accurate and complete reporting. However, if you disagree with any of the accuracy of our reports, it's your right and our obligation to investigate any dispute.
It is important for cosigners and/or co-makers to understand when signing a "note" they agreed to be jointly responsible for repayment. Therefore, cosigners and co-makers will see their joint status reflected on credit reporting until the loan is either paid in full or they are removed from the loan. See the agreement specific to your loan to determine if the release of a cosigner or co-maker is allowable, as well as the condition necessary to do so.
Please note: Navient follows the standards established by the Consumer Data Industry Association which requires us to report loans where a cosigner/co-maker has been released as "terminated." Additionally, if the loan was discharged to due permanent disability, the reporting reads as "paid."
Courtesy Retractions and Credit Reporting
When information is reported accurately, the Fair Credit Reporting Act does not permit Navient to reverse or provide courtesy retractions of information to consumer reporting agencies. This ensures we provide information as accurately as possible – even when it's not the outcome a customer has hoped for.
If you recognize an error on your credit report related to a loan serviced by Navient, contact the individual consumer reporting agency reflecting the error or reach out to us directly in writing. Be sure to provide sufficient documentation with a detailed explanation for the basis of the dispute.
As part of your dispute, you'll need to include the account number and your name, address, and telephone number. We'll notify you in writing with the result of our review.
Questions about specific factors impacting your credit score should be directed to the consumer reporting agency from whom you obtained the score. We do not produce credit scores. Credit scoring methods are proprietary to the companies that produce them.
Supporting materials can include:
A copy of the relevant sections of your credit report highlighting the disputed reporting.

Canceled checks or bank statements reflecting loan payments you believe were not applied to your account.

School enrollment information related to the loans involved in the reporting.

An identity theft report and supporting information if you believe your loan is the result of identity theft. This requires filing a report with your local or state police department or other law enforcement agency.

Any other information you believe is pertinent to your claim.
Contact Information for Credit Disputes
FFELP and HEAL Loans
Navient
Attn: Credit Bureau Management
P.O. Box 9500
Wilkes-Barre, PA 18773-9500
Private Loans
Navient
Attn: Credit Bureau Management
P.O. Box 9655
Wilkes-Barre, PA 18773-9655