Military Benefits
Get the

Benefits You Deserve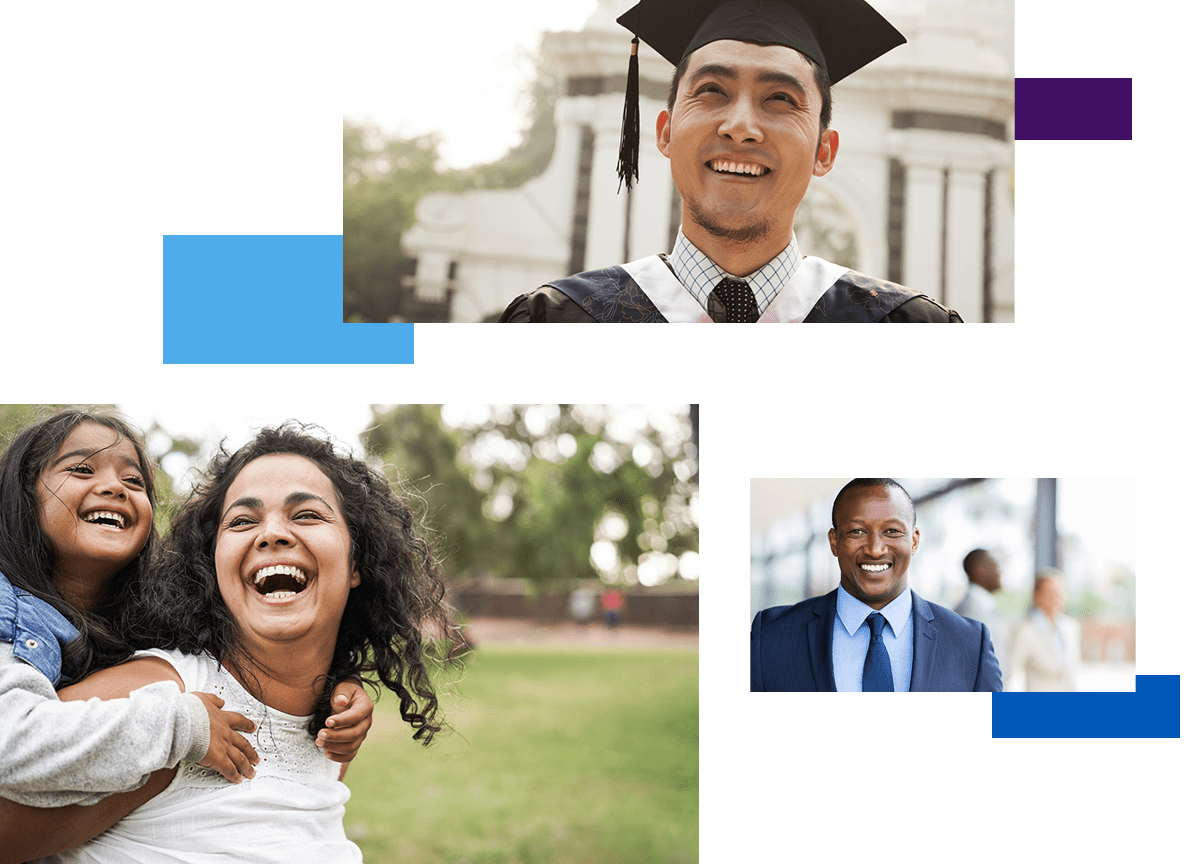 For Those Who Serve Our Country
There are a variety of student loan benefits available to members of the armed forces. We encourage you to learn about them and contact our Military Benefits Team for assistance.
Download the brochure to compare options. Note that this brochure references Direct Loans, which Navient no longer services.
Our Military Benefits Team
We're here to answer your questions and help you navigate the options that are right for you.
Call us toll-free at 855-284-4879, Monday 8 am – 9 pm, Tuesday and Wednesday 8 am – 8 pm, and Thursday and Friday 8 am – 6 pm ET.
4 Ways to Submit Your Documentation
Log in and securely upload

Fax to 800-848-1949

Mail to Navient

P.O. Box 9500

Wilkes-Barre, PA 18773-9500
*Sending documents via email: If you choose to communicate with us via email, please understand that you assume all responsibility for the protection of your personal information while in transit to us and you should consider appropriate email security measures.
Servicemembers Civil Relief Act (SCRA)
The SCRA interest-rate cap is available for federal and private student loans, for both borrowers and cosigners. Interest on student loans obtained PRIOR to your active duty military service is limited to 6% during periods of active duty. (If there is a change to your existing interest rate it will not exceed 6%.)
You won't be assessed fees or any other charges while taking advantage of this benefit.
This benefit applies to loans that were obtained prior to active-duty service. It is important to know the earliest benefit effective date for federal loans is August 14, 2008, and active duty periods that fall on or after that date may qualify. SCRA benefits have always been available for Private Loans.
Application of Benefit
Navient proactively checks the U.S. Department of Defense Manpower Data Center (DMDC), and will automatically apply the benefit to your eligible loans.
If the military active duty periods are different or the benefit is not applied to your loans, please submit valid military documentation.
The fastest way to request SCRA is to log in to your account and go to Tools & Requests. Or you can download the form.
Military Service Postponement
Active Duty for Federal and Private Loans
You may be eligible to postpone your student loan payments while serving active duty military service or in the National Guard on qualifying duty in connection with a war, valid contingency operation, or national emergency and for 180 days immediately following demobilization.
Post-Active Duty for Federal Loans
You may be eligible to postpone your federal student loan payments while serving active duty with the National Guard or other Reserve Component in connection with a war, valid contingency operation, or national emergency for a 13-month period if you were enrolled at least half time at an eligible school at the time of, or within six months prior to, being called to active duty.
HEAL Loan Postponement
This postponement is available for up to three years to borrowers of Health Education Assistance Loans (HEAL) who are on full time active duty in the U.S. Armed Forces. The HEAL program was discontinued in 1998.
Documentation Requirements for Federal Loans
If you meet the requirements for a Military Service Deferment, you can submit a completed Military Service and Post Active Duty Student Deferment Request form, a copy of your military orders, or a signed letter from your commanding or personnel officer. The initial 12 months of a Military Service Deferment may be granted if you or your representative submit a verbal request. Subsequent periods require additional certification.
You can log in to your account to request a deferment online. Go to Repayment Options in the left menu. Or you can download the form.
HEROES Act
Important information regarding the HEROES Act expiration: The Department of Education (ED) last extended the waivers and modifications of statutory and regulatory requirements under the HEROES Act until 09/30/2022. The waivers and modifications are expired, and we are not aware of plans to extend them. Visit StudentAid.gov for updates.
The Higher Education Relief Opportunities for Students (HEROES) Act authorizes the U.S. Department of Education to waive or modify certain regulations, when needed, to ensure affected borrowers are protected while:
Serving on active duty during a war or other military operation or national emergency.

Performing qualifying National Guard duty during a war or other military operation or national emergency.

Residing or employed in an area that is declared a disaster area by any federal, state, or local official in connection with a national emergency.

Suffering economic hardship as a direct result of a war or valid contingency operation or national emergency, as determined by the Department of Education.
The HEROES Act allows a waiver of certain documentation requirements attached to federal student loans. For instance, if you are enrolled in an Income-Based Repayment (IBR) plan and your military service prevents you from providing updated information on your family size and income, you or your representative can request to have the IBR Monthly Payment Amount maintained without recertifying your plan information.
The HEROES Act also allows for extensions of your federal loan status. Your loan status will remain in effect if you're called to qualifying active duty during your grace period or while in-school or graduate fellowship deferment.
Public Service Loan Forgiveness (PSLF)
If you are employed by a government or not-for-profit organization, including religious organizations, you may be able to receive loan forgiveness under the PSLF program. This program is available to federal loan borrowers who have consolidated their FFELP loans into Direct Consolidation Loans.
Read how the U.S. Department of Education overhauled the PSLF program to help service members access PSLF.
Learn more about PSLF or go to StudentAid.gov to learn and apply.
Department of Defense Student Loan Repayment Program
In certain circumstances, as determined by the Department of Defense ("DOD"), all or a portion of your student loans may be repaid.
If you qualify for the DOD Student Loan Repayment Program, you may also be eligible to postpone your payments by requesting a military-related mandatory forbearance.
Navient does not administer the DOD Student Loan Repayment Program. For more information about this program and how to apply, consult your branch of service personnel, benefits, or education coordinator.
Download the form to submit a request.
Total and Permanent Disability (TPD) Discharge
If you are totally and permanently disabled, you may qualify for a total and permanent disability (TPD) discharge of your federal student loans or TEACH Grant service obligation. If you receive a TPD discharge, you will no longer be required to repay your loans or complete your TEACH Grant service obligation.
If you are a veteran, you will be considered totally and permanently disabled for the purposes of this discharge if you provide documentation from the Veteran's Administration (VA) showing that the VA has determined:
You have a service-connected disability, or service-connected disabilities, that are 100% disabling; or

You are totally disabled based on an individual un-employability determination.
Go to the TPD website to learn more and apply.