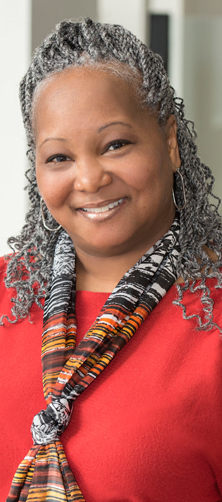 "By truly listening to borrowers' needs, we can provide the best options based on their situation."
Get to know: Portia
Servicing, Delaware
Each day, as a servicing specialist on our Department of Education servicing contract, Portia demonstrates customer-centricity, one of Navient's core values. She puts herself in the borrowers' shoes and treats each of them the way she would want to be treated.
"I take customer service very personally," Portia explains. "I strive to give the best customer service I can no matter what. I listen, make customers comfortable, and do all I can to help." Portia shares that sometimes callers seem uncertain or frustrated, so she always does her best to help them find resolutions to their issues. "The way I present myself impacts the situation. I truly listen to their needs so I can provide the best options based on their situation."
Portia recalls a conversation with a borrower who was particularly worried about an upcoming payment. An Income Driven Repayment application needed to be finalized to lower the next payment due. As Portia explained the process, she could hear the borrower start to relax. "That's my reward: when I know I've made somebody's day," says Portia.