NAVIENT NEWS
Loan Servicing News
We're helping federal student loan borrowers affected by recent natural disasters
In the last few months, we've helped over 100,000 students across the U.S. and Caribbean territories who have faced tremendous hardship due to natural disasters. Navient is committed to doing all we can to support borrowers in impacted areas and ensure they are aware of available payment relief.
---
Upcoming live webcast on repayment for borrowers

Join our next live borrower webcast on Wednesday, October 25. The webcast, offered three times during the day, will provide guidance on federal loan repayment options, highlighting Navient's online tools and resources for navigating a path to financial success.

On the date of the webcast, participants click a link (see right) for the time that works best for them — no registration or app needed. You can join up to an hour before the webcast starts, and each webcast will last about an hour. A replay will be available the next day at: Navient.com/WhatToConsiderBeforeRepayment

October 25, 2017

 

Join the 1:30 pm ET webcast
or
Join the 5:30 pm ET webcast
or
Join the 9:00 pm ET webcast
---
FY 2014 Official Cohort Default Rates
Released September 25, 2017
The U.S. Department of Education's office of Federal Student Aid (FSA) released Cohort Default Rates (CDRs) to schools on September 25. All eligible schools should have received their FY 2014 Official CDR and accompanying documentation via their Student Aid Internet Gateway mailbox. The official cohort default rate is found on the first page of a school's official notification letter and on the last page of the Loan Record Detail Report.
Learn more on the ED-FSA Default Management website.
---
Navient study reconfirms the value of a college education.

Navient's national Money Under 35 study, conducted in partnership with Ipsos, provides a snapshot of how young adults are faring financially. Now in its third year, the study is based on a nationally representative sample of 3,011 Americans aged 22 to 35 across all levels of educational attainment, from those whose education was complete at the high school level to those who have completed an advanced degree. The 2017 study reconfirms the value of educational attainment for young adults in achieving financial health, while exploring for the first time influences like a family's educational and financial backgrounds on those who completed college and those who did not. Read more at Navient.com/MoneyUnder35
---
Five tips to help budget for college
Our latest Medium blog post can help your students lower expenses and save money during college. By putting these tactics into practice while still in school, students can start their post-college lives on better financial footing.
Read our latest Medium blog post.
---
What's new on Navient.com?
We continue making enhancements to provide borrowers with a simple and compelling online account-management experience and to provide schools with tools and resources for your aid office and students.
For Schools
Keep in Touch
Have you changed jobs recently? Maybe you have a new hire in your office, or someone has retired? We've made it easier to let us know. We have created a new tool that enables you to add, update, or remove a contact. Click under Keep in Touch on the right side of the page at Navient.com/Schools/Support and Resources.
For Borrowers
Getting Started and Tracking My Loans
We've updated our Navient.com/Loan-Customers/GettingStarted pages with supplemental information on federal student loans. New to the page is Tracking My Loans, an interactive PDF for borrowers to organize their loan information by type, amount owed, interest rates, and repayment strategies.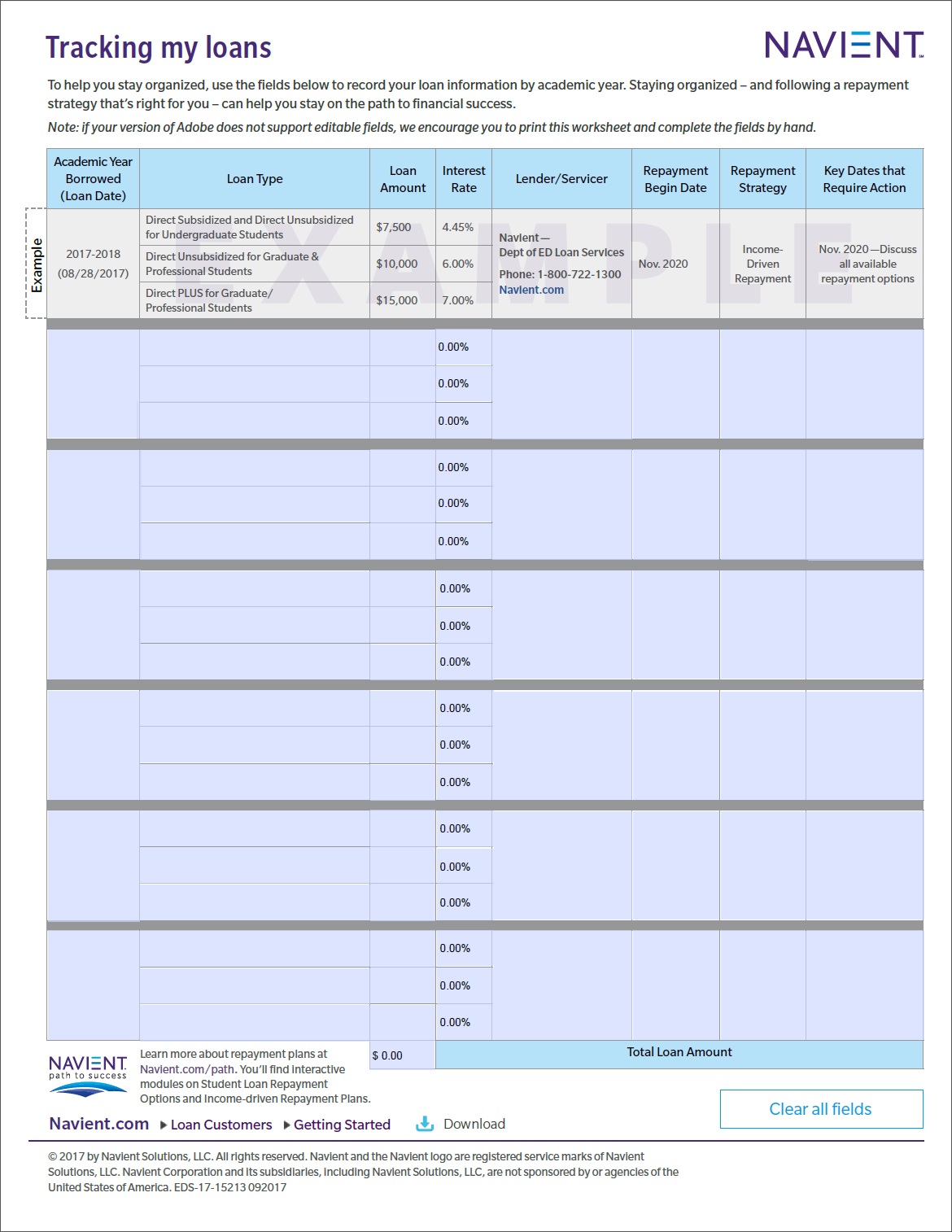 Federal Direct Student Loan 2017–2018 Interest Rates
Comprehensive information on the latest federal student loan interest rates is available for borrowers at Navient.com/Loan-Customers/2017-2018-rates, including charts with repayment estimates showing payments, months paid, and total interest.

A printable version of the chart is also available: 2017-2018 Interest Rates.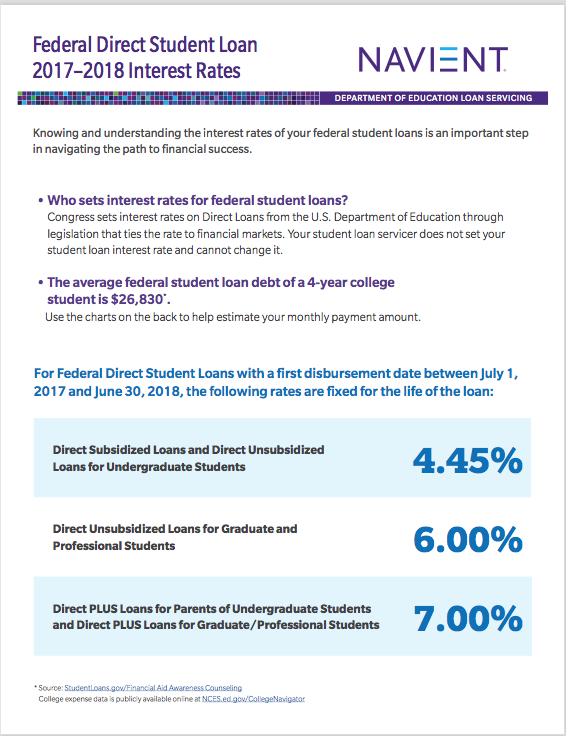 ---
Servicing contact information
CollegeServ®

Providing assistance with borrower-related issues/repayment counseling, enrollment updates, and guidance with our online reports, Monday – Thursday 8 am – 9 pm ET and Friday 8 am – 8 pm ET.

Phone: 888-272-4665
collegeserv@navient.com

 

Electronic Services

Providing technical support, Monday – Friday 8 am – 5 pm ET, for monitoring of your electronic file exchange, report delivery, and our school servicing portal navigation.

Phone: 800-348-4606
ESNAVI@navient.com

Military Benefits

Providing answers to borrowers' questions regarding the Servicemembers Civil Relief Act and other military benefits. Monday – Thursday 8 am – 9 pm ET and Friday 8 am – 8 pm ET.

Phone: 855-284-4879
MilitaryBenefits@navient.com